TROCA SHELLS FROM AROUND THE WORLD
Troca Shells

Troca's are top shells. scientific name: Trochidae. This is a large family of shells found world wide. The shells are spiral to conical shape and vary from low to tall and slender. They range from less than 1/2 inch to over 6 inches in size.
The shells exterior are variable and may be smooth, glossy or sculptured. All trocas have a pearly interior and a horny operculum consisting of many turns.
Trocas are herbivores and use their radulae to feed on algae and vegetable detritus.
Sexes are separate and in some species the females are larger than the males. The two sexes position close to each other releasing eggs and sperm; fertilizing instantly. The eggs can be produced singly or in large strings or masses. The larvae free swimming stage is short lived.
Troca Maculata Shells
HH1-6
Troca Maculata Shell 2 3/8 to 3 inches...... .89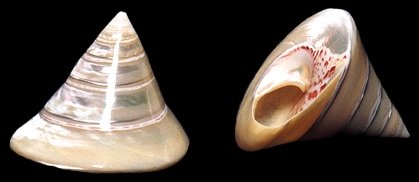 Pearl Troca Shell

E2-17
One Pearl Troca shell 1 7/8 to 2 1/2 inches .......$3.75
E0-17
One Pearl Troca Shell 2 6/8 to 4 inches ...... $7.75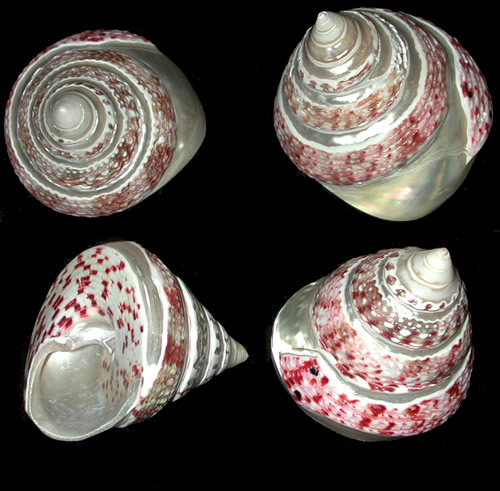 ANACONDA TOP SHELL

N2-12
One Anaconda Top Shell 2 to 2 1/2 inches......OUT OF STOCK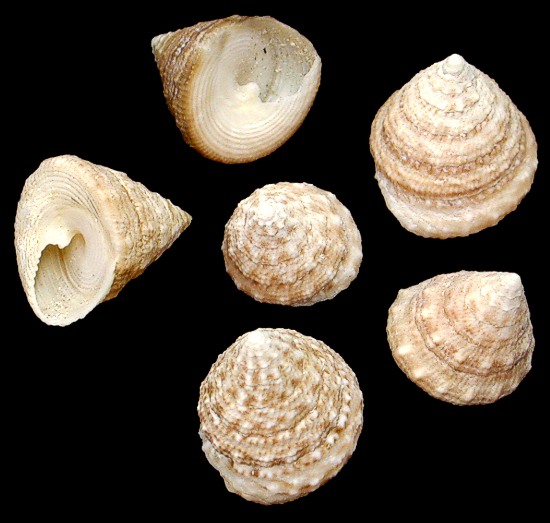 Troca Natural Shell

Q1-10
One Natural Troca Shell 3/8 to 6/8 inch..... .03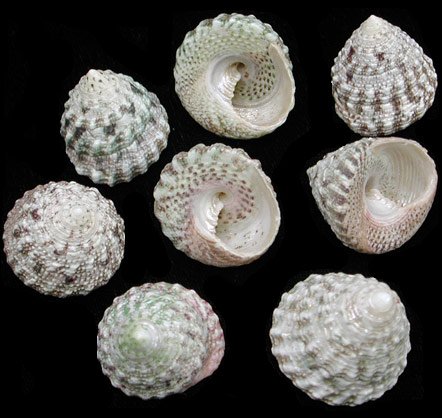 Natural Trochus top shell

WW0-10
One Natural Trochus shell 3/8 to 1 inch...... .09
RED STRIPE top shells

Red Stripe Trocus can vary from stripes of redish brown to grey-white stripes and dashes.
W1-10
One Red Stripe Trocus 1 to 1 2/8 inch ...... .09
Silver Troca Shells

I1-6
One Silver Troca shell 2 to 2 1/2 inches....... $1.19
GREEN POLISHED TROCA SHELLS
K1-6
One Green Polished Troca 2 to 2 1/2 inch.....$1.29
ELONGATED TROCA SHELL
E0-9
One Elongated Troca Shell 1 3/8 to 2 1/2 inch...... OUT OF STOCK