TEREBRA SHELLS POPULAR WITH CRAFTERS
Terebra Shells

Terebra shells belong to the large family of sea snails. Terebra's are typically shaped like slender augers or screws; scientific name: Terebridae family Turritellidae.
Terebridae shells tend to have characteristically flattened whorls, often having one or two plaits on the columella. Most of the tips have been blunted.
Terebra shells are sand-dwelling carnivores living in tropical seas. The shells have a venomous barb similar to that of the cone shells; which is used to stun and immobilize prey, typically consisting of various marine worms.
Black Terebra shell

These are long slender glossy shells. Black Terebras are found across the Indo-Pacific region, living in intertidal zones.
S0-9
One Black Terebra shells 1 3/8 to 2 inches ...... .19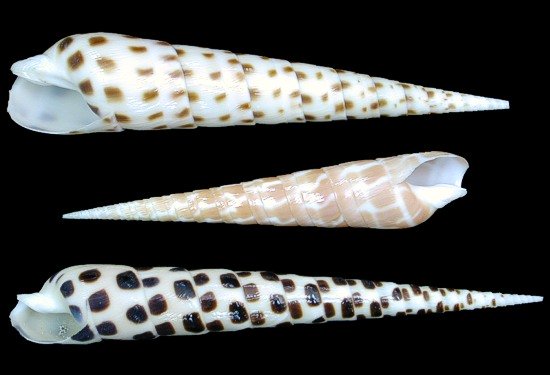 MIXED TEREBRA SHELLS

Most tips have been blunted.
D1-70
One Mixed Terebra shell 2 6/8 to 4 inches ......  $1.10
TEREBRA GUTTATA SHELLS

DO-70
<p>Terebra guttata common name. the eyed auger Belongs to the sea snail Family, They are marine gastropod mollusks in the family Terebridae

This species occurs in the Indian Ocean off Tanzania, Aldabra, Chagos and the Mascarene Basin. Some also found off the Hawaiian coast. They are mostly tropical shallow water dwellers. Some have been found in waters 75 feet deep</P>

D0-70
One Terebra Guttata shell 2 5/8 to 3 3/8 inches..... OUT OF STOCK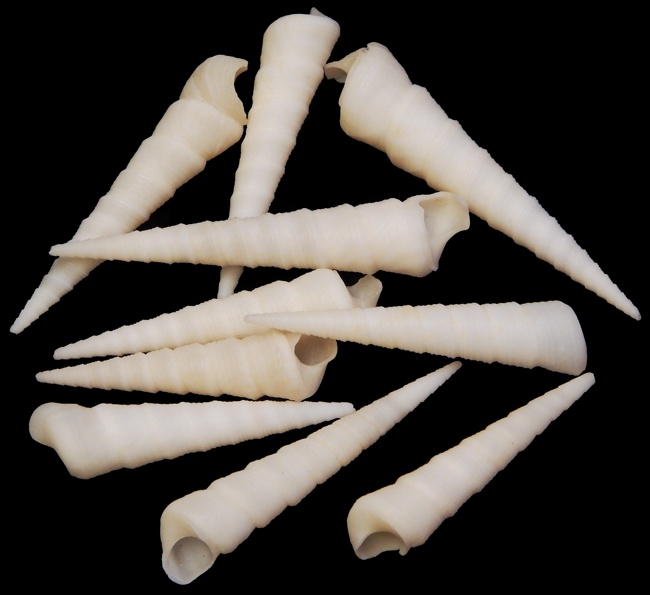 WT1-8 One White Terebra shell approximately 3 inches ..... .35