HERMIT CRAB SHELLS 
FOR A WIDE SELECTION OF HERMIT CRAB SHELLS VISIT OUR TURBO SHELLS, WHALES EYES,SHARK EYES,BONNET, SNAIL SHELLS and TONNA SHELLS

Our painted hermit crab shells are of the highest quality.
What type of hermit crab shells do we recommend? Offer your crab a variety of shells and not always painted and sealed. Choose a few of our natural shells. The natural turbo, shark and whales eye are some of the the most popular among hermit crab keepers.
Assorted Tropical Design Hermit Crab Shells




Assorted Tropical plants & scene shells are sold assorted. Shell opening ranges from 1 to 1/2 inches
H3-12
One 1 to 2 inches Assorted Tropical plants & scenes shell for Hermit Crabs ...... $1.57
Hand painted canary bird on hermit crab shell

Size ranges from about 1/2 inch to 1 1/2 inch.
N1-79
One hand painted Canary Bird hermit crab shell approximately 1 inch...... .59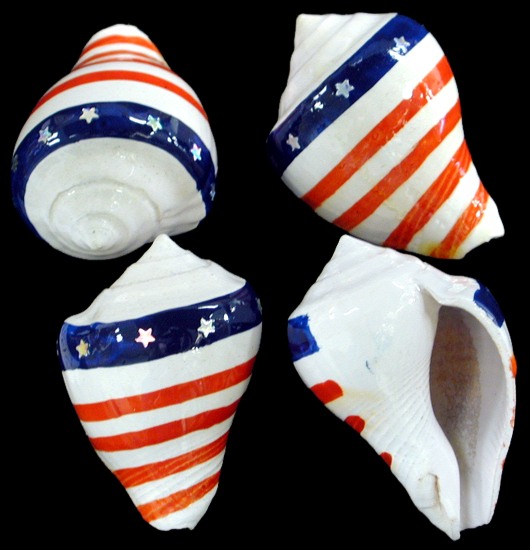 Hand Painted Flag shell

All carefully hand painted. FLAGS ARE PAINTED ON SHELLS BUT MOST HAVE A DIFFERENT DESIGN THAT IS SHOWN IN THE PICTURE. MOST HAVE A COMPLETE FLAG RATHER THAN A RING OF STARS AND STRIPES. Curently, I do not have a picture of the complete painted flag. Sizes refer to shell size. Shell opening is approximately 1 inch.
L1-78
One hand painted Hermit crab shell with Flag design 1 to 2 inches..... .59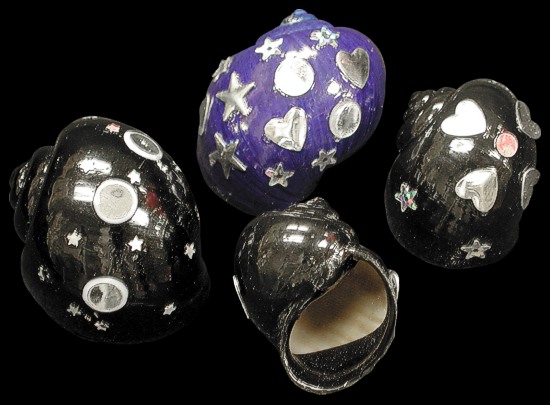 Jewel Shells

Opening of shell is one inch or less.
A1-90
One painted Shell Jewel design 1 to 2 1/2 inches..... .89
Assorted Painted Design

Shell opening size is between 1 and 1 1/2 inches
H2-12
One (sold Assorted) Painted Design Shell 1 to 2 1/2 inches...... $1.40