HARP SHELLS OF THE TROPICS
Harpidae, known as the harp snails, are the members of a taxonomic family of large predatory sea snails, marine gastropod mollusks.
In biology, taxonomy is the scientific study of naming, defining (circumscribing) and classifying groups of biological organisms based on shared characteristics. Organisms are grouped into taxa (singular: taxon) and these groups are given a taxonomic rank; groups of a given rank can be aggregated to form a more inclusive group of higher rank, thus creating a taxonomic hierarchy. The principal ranks in modern use are domain, kingdom, phylum (division is sometimes used in botany in place of phylum), class, order, family, genus, and species. The Swedish botanist Carl Linnaeus is regarded as the founder of the current system of taxonomy, as he developed a ranked system known as Linnaean taxonomy for categorizing organisms and binomial nomenclature for naming organisms.
With advances in the theory, data and analytical technology of biological systematics, the Linnaean system has transformed into a system of modern biological classification intended to reflect the evolutionary relationships among organisms, both living and extinct.
Harps have a voluptuous shape. They are known for their exquisite patterns and great colors. In all there are about twelve species. Most live in shallow tropical seas. A few are found in deep water off south Australia. They do not have an operculum and prefer sand. All are carnivorous.
(REF:Bouchet, P.; Rocroi, J.-P. (2005). "Classification and Nomenclator of Gastropod Families". Malacologia. 47 )
Scientific classification
Domain: Eukaryota
Kingdom: Animalia
Phylum: Mollusca
Class: Gastropoda
Subclass: Caenogastropoda
Order: Neogastropoda
Super family: Muricoidea
Family: Harpidae
Bronn, 1849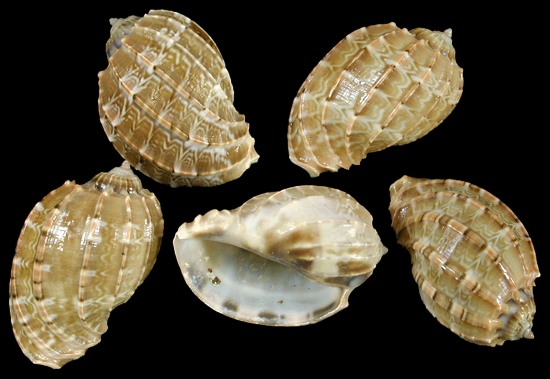 Harpa Davidis Shell
The Harpa Davidis has a distinctive appearance. The shell is smooth and shiny, with fine spiraling lines and a coloration that ranges from white to light brown or reddish-brown. Some specimens may have darker spots or bands on the shell. The aperture of the shell is narrow and elongated, with a thickened lip that is often fringed with small teeth. The snail can grow to 2 1/2 to 4 3/4 inches. They have a foot that is usually pale in color and a pair of tentacles that are used for sensing the environment.
The Harpa Davidis is found in the tropical and subtropical waters of the Indo-Pacific region. Its range extends from the eastern coast of Africa to the western coast of the Americas, including the Red Sea, the Indian Ocean, and the Pacific Ocean. It is often found in shallow waters, particularly around coral reefs and rocky shores. This species dwells on sublittoral and offshore sandy bottoms at depths of 17 to 821 feet
The Harpa Davidis is a nocturnal snail that is usually active at night. During the day, it will hide in crevices or under rocks to avoid predators. It is a relatively slow-moving snail that uses its muscular foot to crawl along the substrate. It is also able to swim for short distances by expelling water from its mantle cavity.
The Harpa Davidis is a carnivorous predator that feeds on other small invertebrates, particularly other snails and bivalves. It uses its strong foot to hold onto its prey and its radula, a specialized feeding structure, to scrape away at the shell and consume the soft tissues inside.
The Harpa Davidis is a hermaphroditic snail, meaning that it has both male and female reproductive organs. During mating, two individuals will come together and exchange sperm packets, which are then used to fertilize each other's eggs. The fertilized eggs are laid in small clumps or strings, which are attached to the substrate or to other objects in the environment.
(REF: theanimals.life)(REF: Harpa davidis Röding, 1798. Retrieved through: World Register of Marine Species) (REF: "Harpa davidis". Gastropods.com.) (REF: "Harpa davidis". Encyclopedia of Life. )
Scientific classification
Domain: Eukaryota
Kingdom: Animalia
Phylum: Mollusca
Class: Gastropoda
Subclass: Caenogastropoda
Order: Neogastropoda
Family: Harpidae
Genus: Harpa
Species: H. davidis
Binomial name: Harpa davidis
Röding, 1798
VV2-9
One Harpa Davidis Shell 2 to 3 inches...... .65
VV3-9
One Harpa Davidis shell 3 to 3 3/8 inches... $1.15
Harpulina lapponica Shells
Harpulina lapponica is a species of sea snail, a marine gastropod mollusk in the family Volutidae, the volutes.
(REF: Harpulina lapponica (Linnaeus, 1767)
Harpullinas are native to the Indian Ocean, particularly Sri Lanka
The length of the shell can grow to about 3 inches.
Scientific classification
Kingdom: Animalia
Phylum: Mollusca
Class: Gastropoda
(unranked): clade Caenogastropoda
clade Hypsogastropoda
clade Neogastropoda
Super family: Muricoidea
Family: Volutidae
Subfamily: Volutinae
Genus: Harpulina
Species: H. lapponica
Binomial name: Harpulina lapponica
(Linnaeus, 1767)
J0-9
One Harpulina Shell 2 to 2 1/2 inches...... .19