Ficidae common name Fig Shells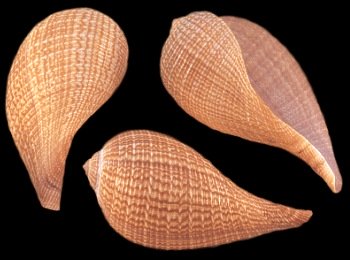 FIG SHELLS
Ficidae, common name the fig shells are a family of medium to large marine gastropods. They are the only family in the superfamily Ficoidea.
The Fig shells of these sea snails have a shape of a fig or pear, hence the common name.
Fig shells generally have subdued spiral ribbing, and are patterned in shades of pale brown and beige.
The family is found worldwide, mostly in tropical and subtropical silt and mud covered neritic zones.
The neritic zone (or sublittoral zone) is the relatively shallow part of the ocean above the drop-off of the continental shelf, approximately 660 feet in depth. From the point of view of marine biology it forms a relatively stable and well-illuminated environment for marine life, from plankton up to large fish and corals, while physical oceanography sees it as where the oceanic system interacts with the coast.
(REF: Moore, Lalicker, and Fischer 1952; Invertebrate Fossils, McGraw-Hill Book) (REF: Keen, A.Myra 1958; Sea Shells of Tropical West America, Stanford University Press)
Scientific classification
Domain: Eukaryota
Kingdom: Animalia
Phylum: Mollusca
Class: Gastropoda
Subclass: Caenogastropoda
Order: Littorinimorpha
Super family: Ficoidea
Family: Ficidae
Meek, 1864 (1840)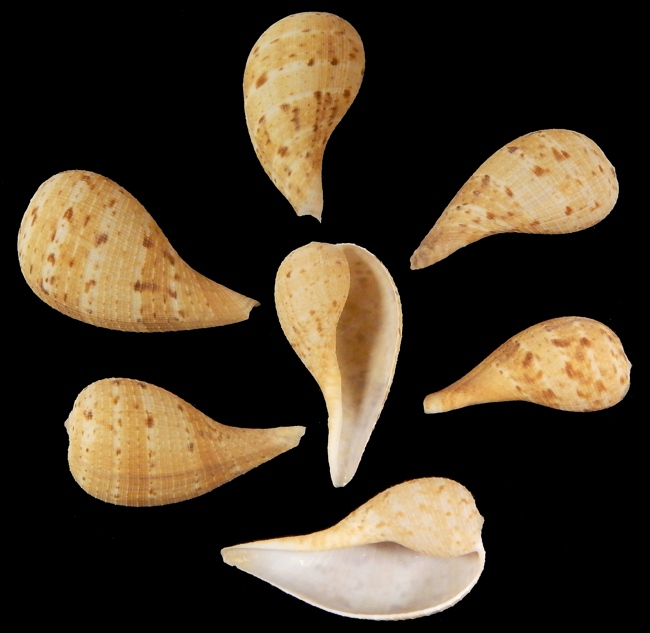 Ficus ficus common name paper fig shell is a species of sea snail, a marine gastropod mollusk in the family Ficidae, the fig shells.
Ficus Ficus are found in the Indian Ocean and the West Pacific.
Ficus ficus is an unusual shaped thin shell being somewhat pear-shaped with a long narrow aperture and four whorls. The spire is tiny. The shell may reach 5 inches in length. The maximum recorded shell length is about 6 inches. There is a trellis-like sculpture of fine striations on the pinkish surface. The inside is orange and there is no operculum. There is a large foot with two curved flaps near the head and a single long siphon.
(REF: Welch J. J. (2010). "The "Island Rule" and Deep-Sea Gastropods: Re-Examining the Evidence)
The minimum recorded depth for this species is less than a foot in the intertidal zone to about 578 feet in depth.
(REF: Welch J. J. (2010). "The "Island Rule" and Deep-Sea Gastropods: Re-Examining the Evidence" )
Scientific classification
Domain: Eukaryota
Kingdom: Animalia
Phylum: Mollusca
Class: Gastropoda
Subclass: Caenogastropoda
Order: Littorinimorpha
Family: Ficidae
Genus: Ficus
Species: F. ficus
Binomial name: Ficus Ficus
(Linnaeus, 1758)
C2-7
One Ficus Ficus (Fig Shell) 2 to 3 inches ...... .59