REAL PRESERVED CRABS FOR SERIOUS AND CASUAL COLLECTORS
PRESERVED CRABS


Crabs belong to the Phylum Arthropoda. They are arthropods. Arthropods are the largest group of invertebrate animals. There are more than 1,000,000 known species. Most artropods are land dwelling insects. Then marine arthropods or crustacea class includes over 31,000 species.
Arthropods have a tough encasement of armor or exoskeleton, which gives the animal rigidity and protection for its soft insides.
The crab or arthropod armor is primarily made of chitin. , secreted by its cells. There are many forms and colors of crabs allowing them to be very adaptable to various coastal environments
Most crabs are oval, rectangular or triangular. They have a front pair of pincers and four pairs of walking legs.
The skeleton has joints, where the chitin is thin and flexible. This flexibility permits movement. The skeleton inhibits growth. Growth can only be done by molting the skeleton. Molting happens after a soft skeleton is secreted beneath the hard outside layer. The old skeleton splits and allows the animal to crawl out. The soft skeleton then hardens quickly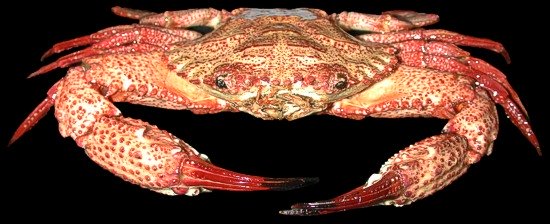 GIANT RED CRAB

E2-3-20
One Giant Red Preserved Crab 6 to 7 6/8 inches .......OUT OF STOCK
E4-20
One Giant Red Preserved Crab 8 to 9 inches.......OUT OF STOCK