BARNACLE CLUSTERS FROM THE TROPICAL PACIFIC REDISH PURPLE NATURAL COLOR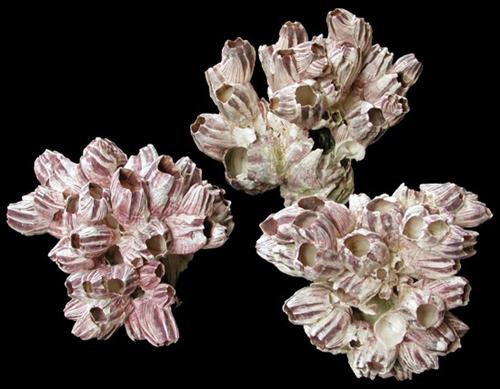 Our barnacle clusters are from the tropical waters ranging from the Indian Ocean thru Indonesian to the northern shores of Australia. All are of the highest quality. The larger clusters may have a little adhesive added in their seems to help hold them together during shipment.We do not recommend they be used in fish aquariums.

The Barnacle clusters are a striking redish purple all natural color.
If a particular size is out of stock, new shipments arrive bi annually, just check back.
BARNACLE CLUSTERS

C1-2
One Barnacle cluster 3 to 5 inches...... $3.50
C2-2
One Barnacle Cluster 5 to 7 inches ......$7.75
C3-2
One Barnacle Cluster 7 to 10 inches ......$11.25
C4-2
One Barnacle cluster 10 to 12 inches.... OUT OF STOCK