ONE OF THE LARGEST SELECTIONS OF QUALITY ABALONE SHELLS ON THE NET
Abalone shells are flat shells that have few whorls.
(A whorl is one complete turn of the tube of the gastropod shell around its imaginary axis). The Abalone is a gastropod.
(A gastropod is a mollusk with head bearing tentacles and eyes, a foot and a one-piece shell(sometimes no shell).
A mollusk is a soft bodied, legless animal that usually secretes a calcius shell
The body whorl has small holes dotted over its body. This is where air is taken-in.
Abalones are found the world over, with the larger species in a more temperate water. Some of The abalone shells in our listings are known as a donkey's Ears. Donkey's Ears and disc shaped species are found in the Indo-Pacific region; ranging from the western Indian Ocean east to the northern shores of Australia.
The body whorl of the Donkey Ear is ornamented with spiral ridges and some growth lines. The outside shell is creamy with green and brown blotches, triangles and streaks. In our listing of Abalone shells you will notice the Paua, silver and many other varieties of Abalone shells. Some Abalone shells like the paua have been polished; while others are in their natural state.
Shells are measured by surface and point to point. What is meant by surface is if you used a cloth ruler and measured from the points of greatest distance the ruler would allow for the shell curvature. It is rare when a shell is completely flat. This measurement is usually greater than point to point measurements. For instance point to point may measure 4 inches but surface measurement is 4 1/4 to 4 7/8 inch or sometimes more.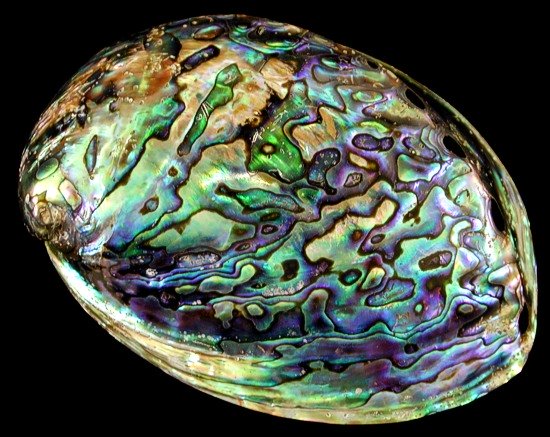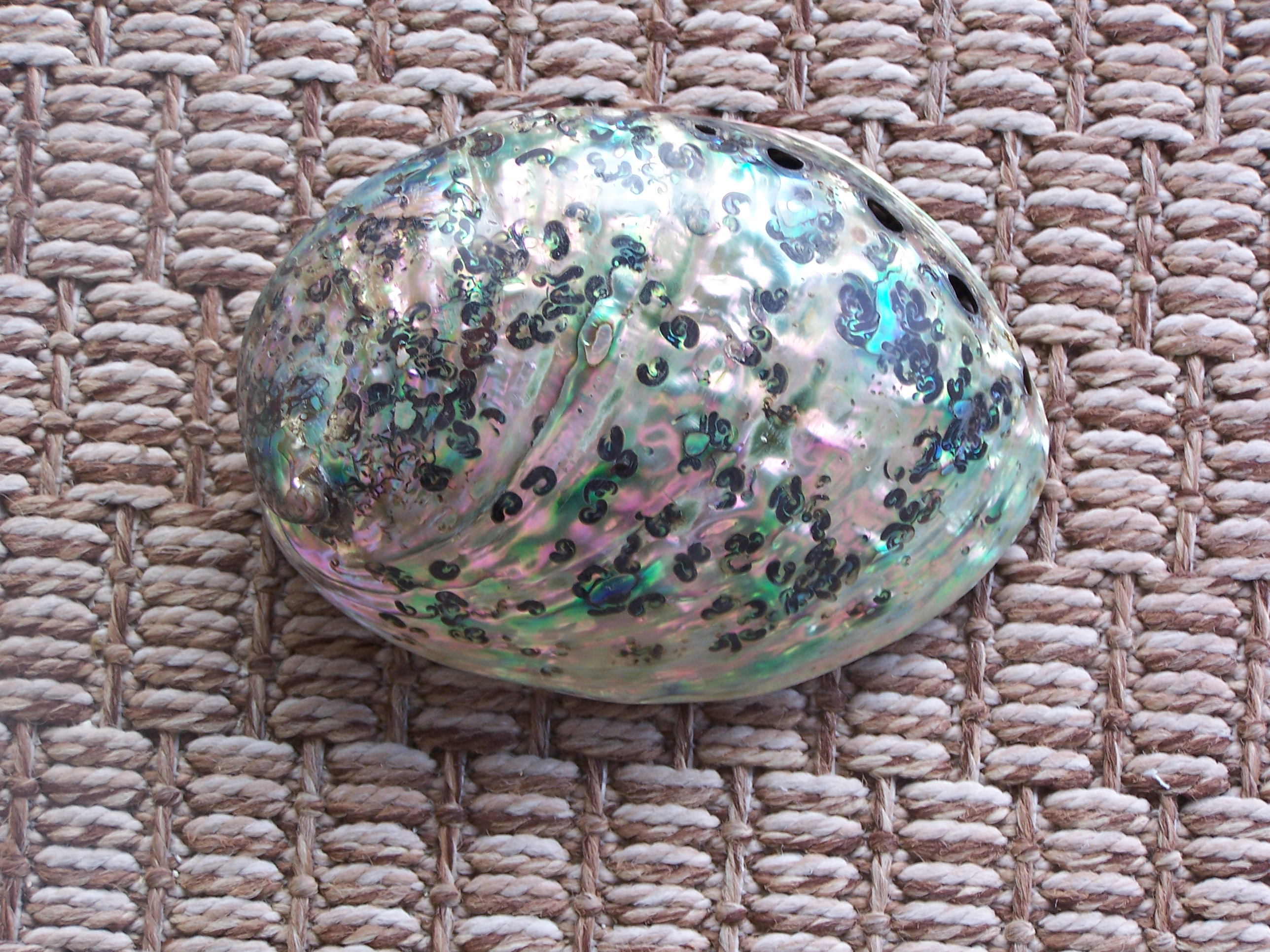 PAUA ABALONE SHELL
Paua Abalones in there natural habitat attach to rocks on the sea floor. They are pride off the rock and highly polished. The part of the Abalone that was attached will show some discoloring. Each shell is different and coloration may vary.
Abalone are permanently attached to their shell in the center at a location called the muscle attachment. The Muscle atttachment produces a scar on most paua abalones.. The scarring is polished over and becomes part of the out side shell's striking color presentation.
The shell begins in the larval form and abalone can only add to an existing shell after their larval stage. If they are removed from their shell, without injury, they can remain alive but cannot make a new shell – nor can they reattach to their old shell if it has been removed. Abalone rely on their shells for protection, so an animal without a shell would be easily eaten by a predator in nature. Inside the shell, the location under the spiral is called the apex just as it is on the outside of the shell. It is under a small, hard shelf at the end of the shell. A portion of the abalone body rests in the apex but there is no substantial attachment here.
M1-4
One Polished Paua Abalone from Northern shores of New Zealand 4 to 5 inches...$14.95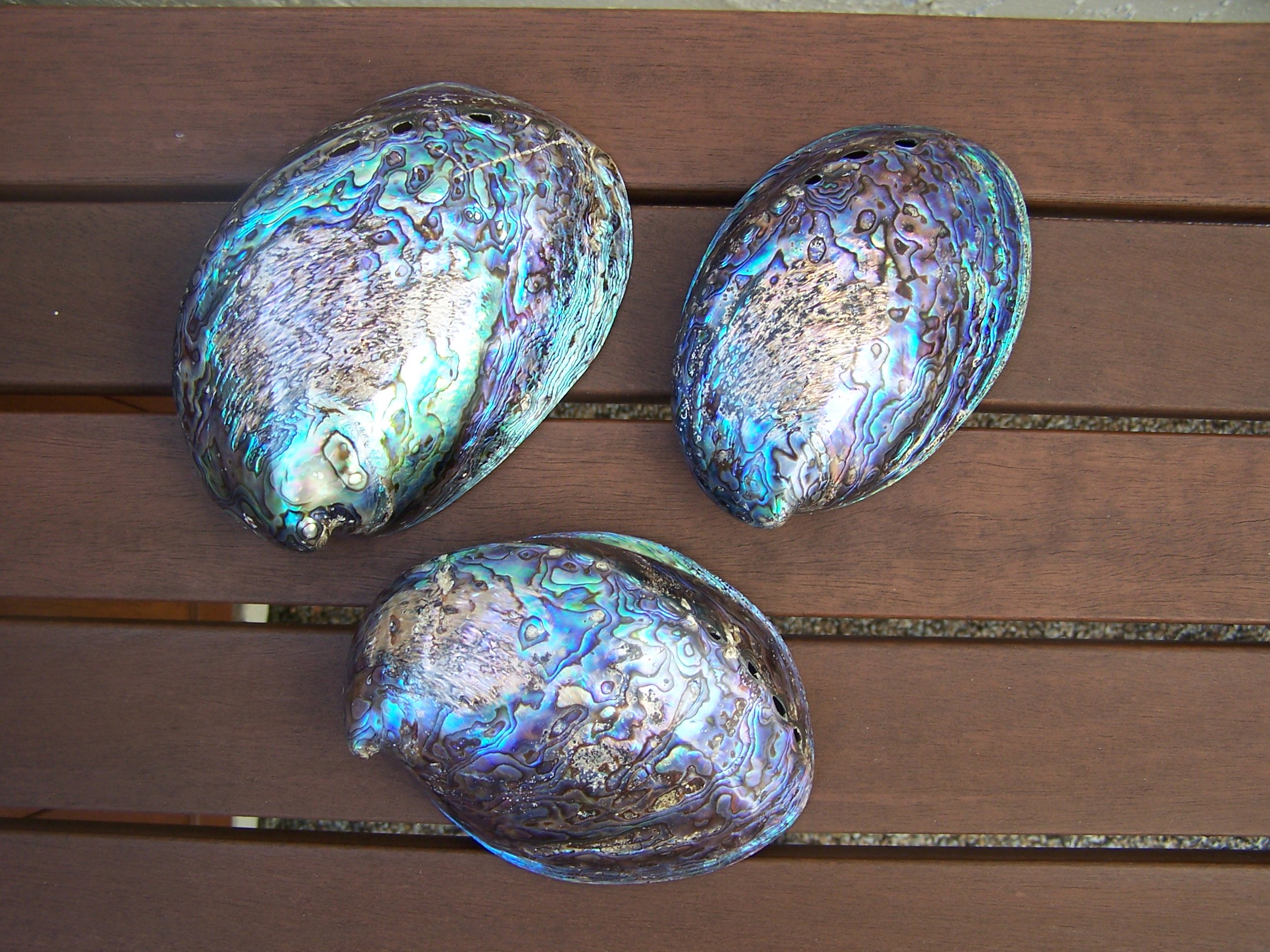 SCAREFACE PAUA ABALONE
Highly polished Scareface Paua Abalones from the Coral Sea
SFPAB
One highly polished Scareface Paua Abalone 4 to 5 inches.... $10.95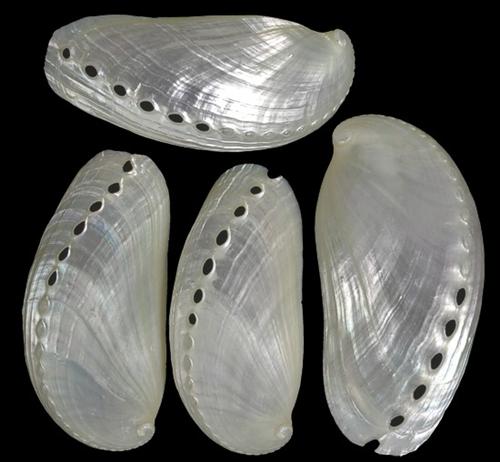 POLISHED PEARL ABALONES

L2-14
One Polished Pearl Abalone 1 7/8 inches or more .... .49
L1-14
One Polished Pearl Abalone 2 7/8 inches or more...... .69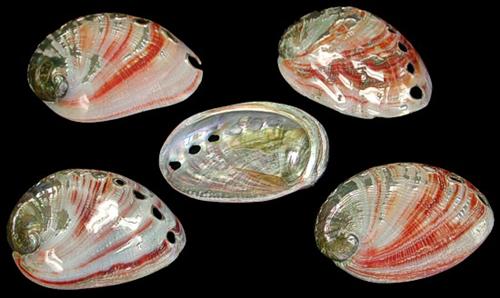 BABY POLISHED RED (NATURAL COLOR
AA3-5
One Baby Red Abalones Polished  2 or more inches .....OUT OF STOCK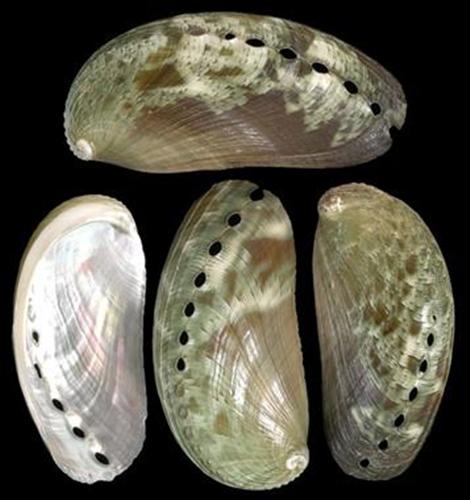 GREEN ABALONES

K1-14
One Green Abalones 2 to 3  inches ...... .31
Giant Red Abalone

Scientific name: Haliotis Rufescens. Ranges from Bodega Bay California to Mexico. Found in rather deep water. It is considered one of the largest species in the Eastern Pacific. It is large, thick heavy shell and can reach a length of about 10 inches. Its shape is generally oval with outside color of dull redish brown. The sculpture has rounded rubs and low radiating waves. Inside, the shell is highly polished with a rainbow of colors. The hues are blue, copper but predominately pink. The outer rim projects over the pearly interior and forms a red edge. There are usually 4 open respiratory holes at the margin. These abalones live attached to rock and are edible.
RA0-1
One Giant Red Abalone all natural ruff on outside and rainbow of colors inside 4 7/8 plus inches.....OUT OF STOCK
RA1-1
One Ruff Giant Red Abalone shell 5 3/4 plus inches ...... OUT OF STOCK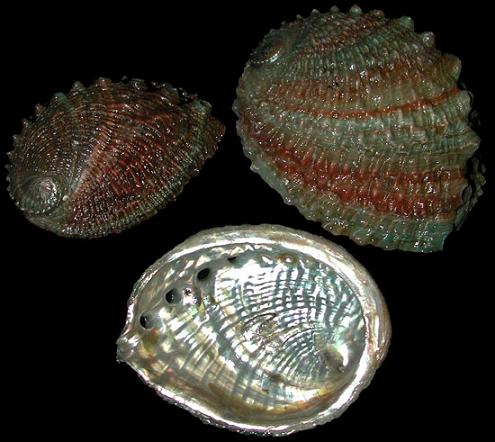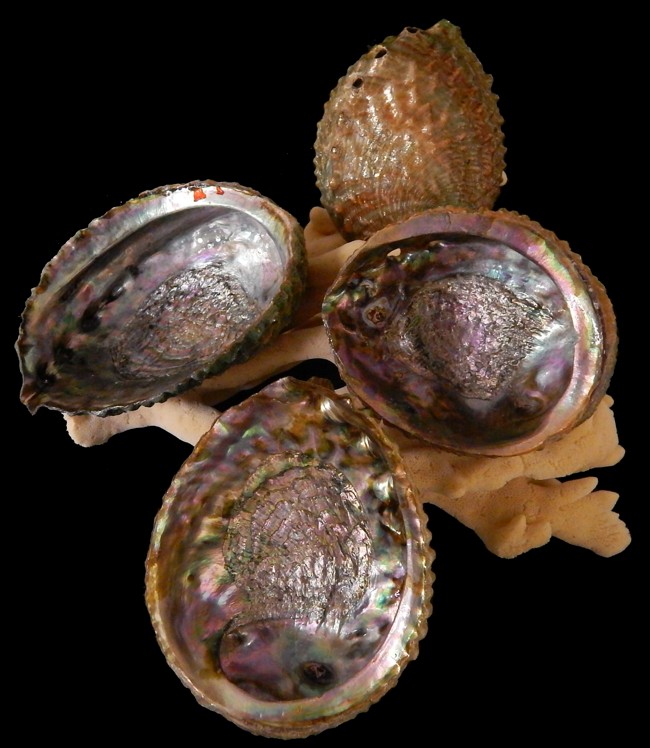 Rainbow Ruff Back Abalone


Rainbow Ruff Backs are found near the Mexican coast. They are naturally rough on the outside and pearlized inside.
PAB1-5
One Ruff Back Rainbow Abalone 4 to 5 inches....$4.95
PAB2-5 One Ruff Back Rainbow Abalone 5 to 6 inches....$5.95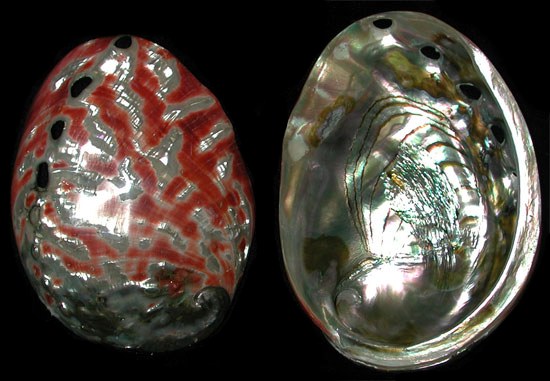 POLISHED RED ABALONE

PRA-1
One POlished Red Abalone shell 6 to 7 inches..... OUT OF STOCK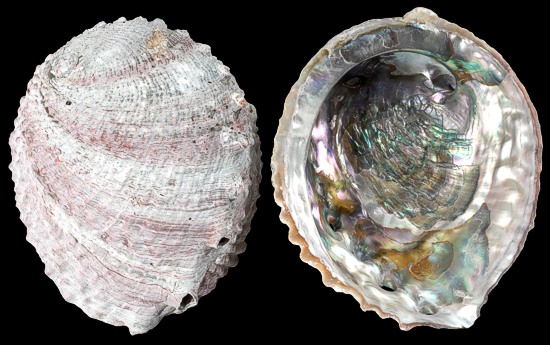 Pink Ruff Back Abalone

Rainbow colors inside,ruff back.
A3-5
<p><b>One Pink Ruff Back Abalone 5 to 6 inches</b>..... OUT OF STOCK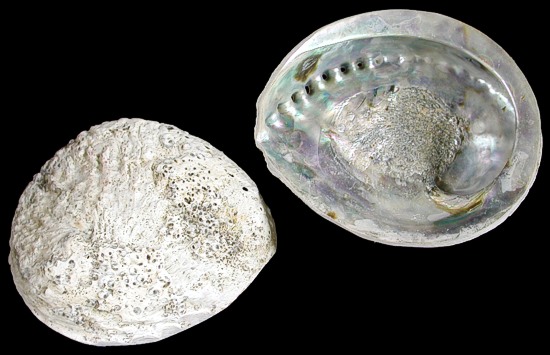 Silver Ruff Back Abalone
Silver Rainbow colors inside,ruff back outside.
B1-37
One Silver Ruff Back Abalone 3 6/8 to 5 5/8 inches..... $3.95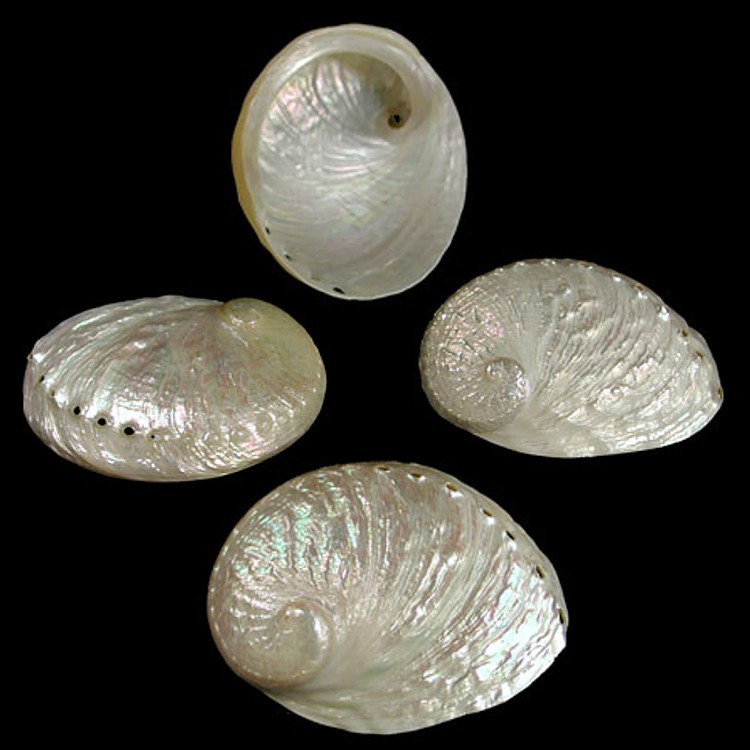 SILVER ABALONE
Found in the Indo-Pacific region
PA2-5
One Silver Pearl Abalone 4 to 5 inches....$11.95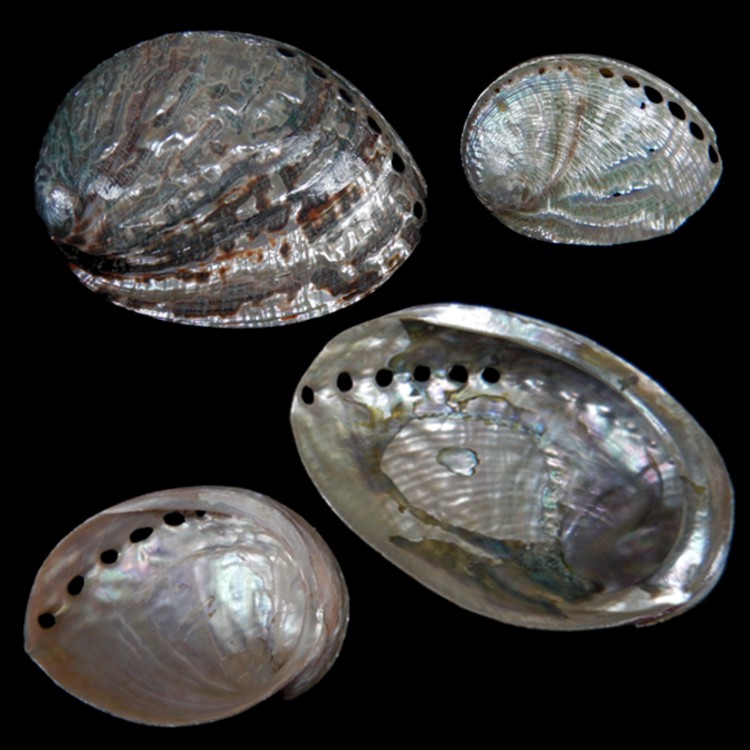 PEARL Silver GREEN POLISHED ABALONE
PAP7-4
One highly polished Silver Pearl Green Abalone 3 1/2 to 4 inches ..... $4.95
PAP8-4
One highly polished Silver Pearl Green Abalone 5 to 5 6/8 inches ..... $11.95