Turbo Shells Are Great for Hermit Crabs Average Shell Opening is 1 to 1 1/2 inch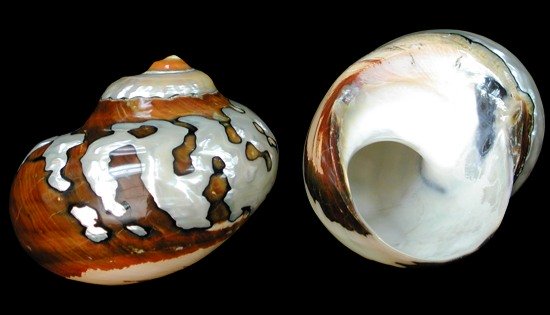 The Semanticus African/South African Turban belongs to the gastropod group of shells. Gastropod is an animal bearing a head with tentacles and eyes, a foot and a one piece shell.
The Semanticus African, as with other Turbans are found in tropical seas.
The South African Top shell or Semanticus African is found off the tip of South Africa in offshore waters, mainly among stones.
This South African collector shell is heavy with distinguished markings. It is especially popular among collectors when polished down to its nacreous (inner shell known as the "Mother of Pearl". The Semanticus African Turban we are listing is polished.
D1-3-4
One Semanticus African Turbo shell 2 inches plus, shell opening is about 1 inch......OUT OF STOCK
GROOVED TURBAN SHELLS


Turbo shells belong to the gastropod family of shells (animal/mollusk) living inside the shell creates a single shell. These shells are top shaped. Some shells are smooth, others highly ornamented with spines or flutings. This shell has unique color designs, that make it attractive to many shell collectors. The aperture is pearly.




Habitat. Most are found in warm tropical seas, near coral. The Grooved Turbo shell ranges from the Indian Ocean east to the Northern shores of Australia.




S1-3



One Grooved Turban shell 3/4 inch or less, shell opening is under 1/2 inch...... .05
Silver Mouth Green Turban Shell(natural)
DD1-9
One Silver Mouth Green Turban Shell 1 1/4 plus inches, shell opening is about 1 inch...... .19
Pearl Malabar Turbo Shell
Pearl Malabar Turbos are gastropods found across the Indo-Pacific region.
II2-10
One Quarter pound of Pearl Malabar Turbo 3/8 inch or LESS..... $1.19